Online schedulers
Understanding Scheduling Links and Using Them Best
Scheduling links are links that you can share with someone to book a meeting with you or with a group of individuals. Here's how they actually work.
---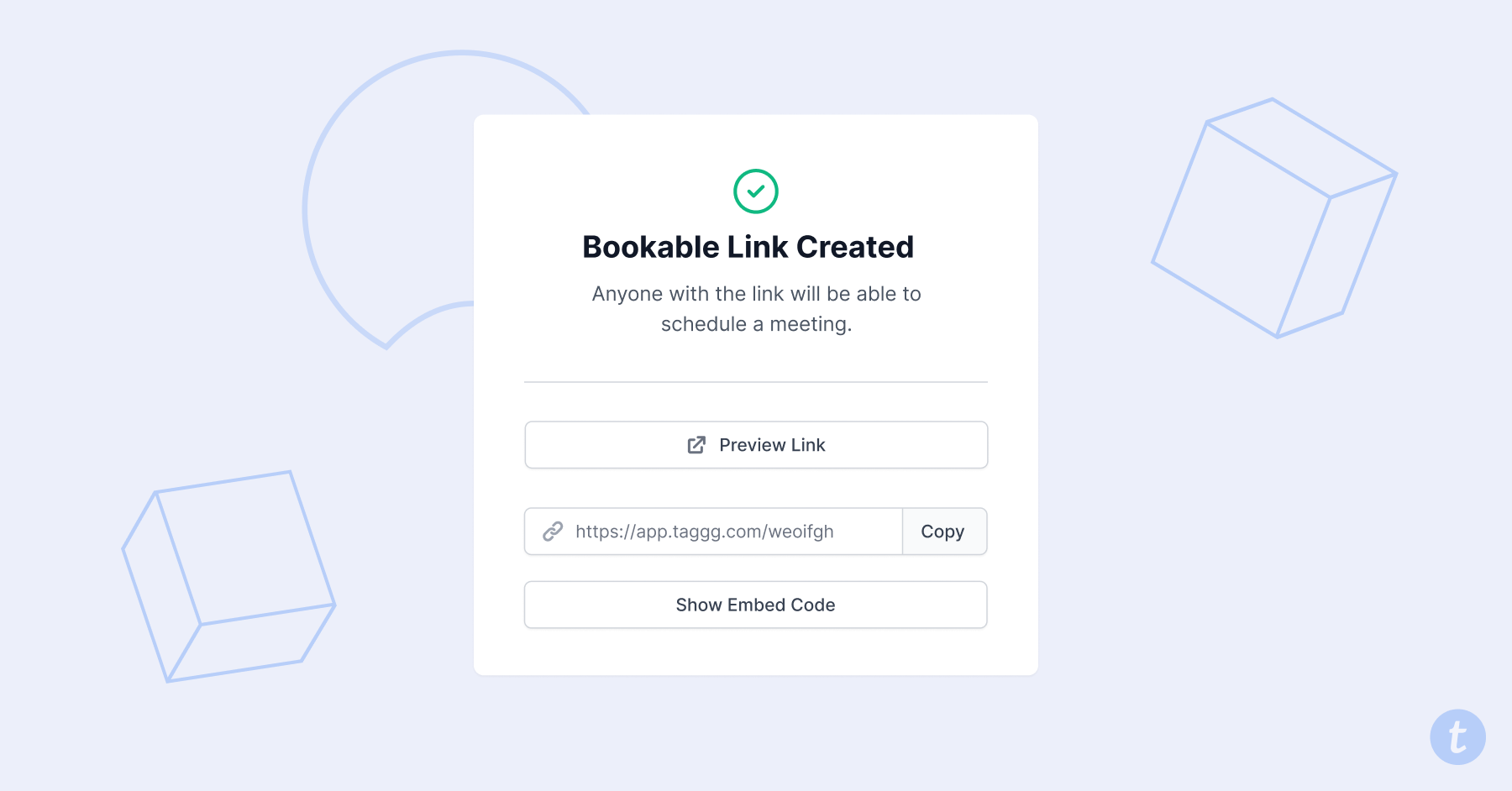 For busy professionals, calendar management can be a job in and of itself. Regardless of which popular online calendar software you use, there is a chance it lacks one crucial feature: the ability to connect calendars and schedule group meetings instantly with your team members.
What if we told you there was a way to find a time to meet without sending endless meeting links, emails, and Slack messages looking for a time when everyone can meet? With Taggg, you can connect calendars to cross-check availability and find an available time that works for everyone without relying on awkward voting and polling apps.
What Are Scheduling Links?
Scheduling links, or "bookable links," as we call them here at Taggg, are links you can share with someone to book a meeting with you or with a group of individuals. From scheduling workplace meetings with team members via email or embedding links in your website that allow visitors to book a time to schedule a demo with your sales team, Taggg's bookable links have you covered.
Understanding Scheduling Links
When you use Taggg to help better manage your online calendar and schedule meetings more quickly and efficiently, there are two types of bookable links that you can create:
Personal Bookable Links: A personal bookable link is a shareable link that allows an individual to find an appropriate time to meet with you and is perfect for scheduling one-on-one meetings.
Group Bookable Links: Allow you to create a shareable link and add connected contacts so that anyone can book a meeting with you and everyone in your group.
Group bookable links eliminate the headaches associated with sending countless emails and DMs back and forth between team members, hoping you can all agree on a time to meet.
Taggg offers three flexible options for your Group Bookable Links to best accommodate your specific needs:
Shared Availability: A shared availability group bookable link cross-checks the availability of everyone in your group, books all participants, and shows available times that work for all group members.


Round Robin: A round-robin group bookable link rotates group availability and books with a single participant, showing the available times of one person in your group and then rotating.


First Available: A first available group bookable link maximizes group availability and books with a single participant while showing the available times that match anyone in the group.
How Taggg Does Scheduling Better
Whether you and your contacts use Google Calendar or Microsoft Outlook, connecting with your contacts and their calendars and using Taggg's scheduling links, you'll be able to share each other's availability and experience faster scheduling than ever before.
Once you're all connected, you can create a new meeting or add meeting participants, and Taggg will show you the availability of your meeting participants. After selecting and confirming a meeting time, a new event will be automatically created and shared to everyone's calendars within seconds.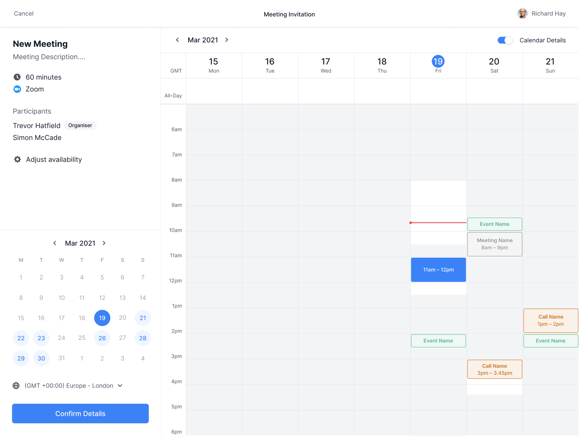 Who Benefits From Using Taggg's Bookable Links?
With Taggg's different pricing plans, including a basic plan with unlimited meetings at no cost for individuals with a single calendar and a team membership that starts at just $8 a month, everyone can benefit from using Taggg.
Some of the professionals that are finding success with Taggg's bookable links include:
Management Level Professionals: Time is money, and management professionals need a fast, flexible way to schedule meetings.
Administrative Assistants: It's a tough job, but someone has to do it. Thankfully, Taggg's bookable links make scheduling for others a breeze.
Agencies: Bookable links are perfect for agencies who need to quickly schedule group meetings among team members or with clients and contractors.
Sales Teams: Taggg's embeddable demo calendars offer shared availability and round-robin scheduling perfect for sales teams.
Customer Service (CS) and Customer Experience Teams: Onboarding calls, renewal conversations, and hand-offs among teams are all scheduled more easily when you use bookable links.
Marketing Teams: You can schedule sales meetings and demos faster and more efficiently using Taggg's bookable links.
Startups: When you connect your calendars with investors, contractors, and team members, you'll save time scheduling meetings with bookable links.
Investment Fund Managers: Connecting calendars and using bookable links makes booking your meetings with contacts easier.
Regardless of your calendar software, Taggg is the answer to all your scheduling woes.
With Taggg's bookable links, you'll never get caught in an endless loop of emails and DMs looking for the best time to meet. By connecting the calendars of all your contacts and using Taggg's flexible scheduling options, finding a time and date that works for everyone has never been easier.Learn how to make Taggg's bookable links work for you. Get started for free today!
---
About the author
Ashley Grant is a content creator currently based in Richmond, Ky. Ashley grew up in Tampa, and attended the University of South Florida. Go Bulls! When she isn't writing and or hosting her Bloggy Friends Show podcast, she loves trying new foods and beverages, exploring the city she lives in, and traveling as much as possible. In addition to ghostwriting for several small businesses and freelance writing under her own name for a variety of websites, she blogs about her lifestyle, working from home, and much more at FamousAshleyGrant.
Website
Read more posts by this author.