Comparison
Acuity vs Calendly: Which One Should You Choose?
Let's breakdown the pro's and con's of Acuity and Calendly.
---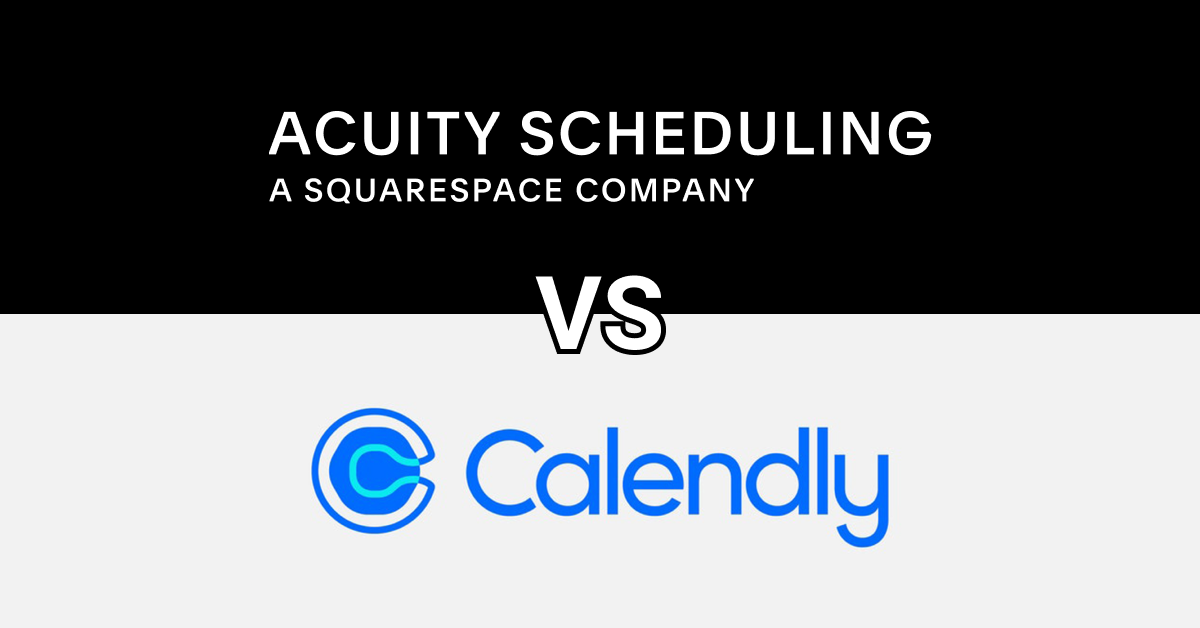 Being an entrepreneur is already hectic, so you don't need to add any extra burden to your plate. You have a lot of things to juggle, and trying to decide which scheduling software is right for you is just one more thing to worry about.
Scheduling software can either make your life easier or more difficult. This of course depends on which software you choose for your business. You don't want to select a scheduling app that forces you into a one-size-fits-all template when what you may need is customization or a service that simply ticks more boxes than the rest. Unfortunately, the more advanced the features can often mean a higher price tag. That's why it's best to start by figuring out precisely what features you need from the tools you're considering - as well as what makes it better than the alternatives available to you.
With that in mind, in this post, we'll take a look at Calendly and Acuity to see which of the two will best suit your business's needs.
Working With Your Schedule - Calendly vs. Acuity
Calendly is a software developed for customer service professionals, salespeople, and marketers who are always on the go. It's widely used by businesses in every field because it doesn't require extensive training or knowledge to use.
With Calendly, you can set it up so customers or leads can easily book a time that works for them. You don't need to worry about blocked times or availability. With Calendly, all you have to do is create your event and choose the days and times that you have available and your clients, partners, vendors, etc… and they can choose from what is listed on your calendar.
As an added bonus, Calendly integrates with many different calendars, including Google Calendar, Outlook, and iCalendar. This helps you avoid double bookings and/or needing to remember important events that could block your availability.
Acuity is a similar appointment booking solution that allows you to use its app or integrate with your website, so customers can schedule online. Acuity's interface for customers is straightforward to use as well - just click the date and time you want, and it will be added automatically. You can track bookings, manage availability, receive reminders, and more.
It can also be integrated with many other programs, so you have the flexibility to link to the tools you already use for your business. A few of Acuity's integrations include Salesforce, ZenDesk, Slack, MailChimp, Google Analytics, Eventbrite, PayPal, and Dropbox.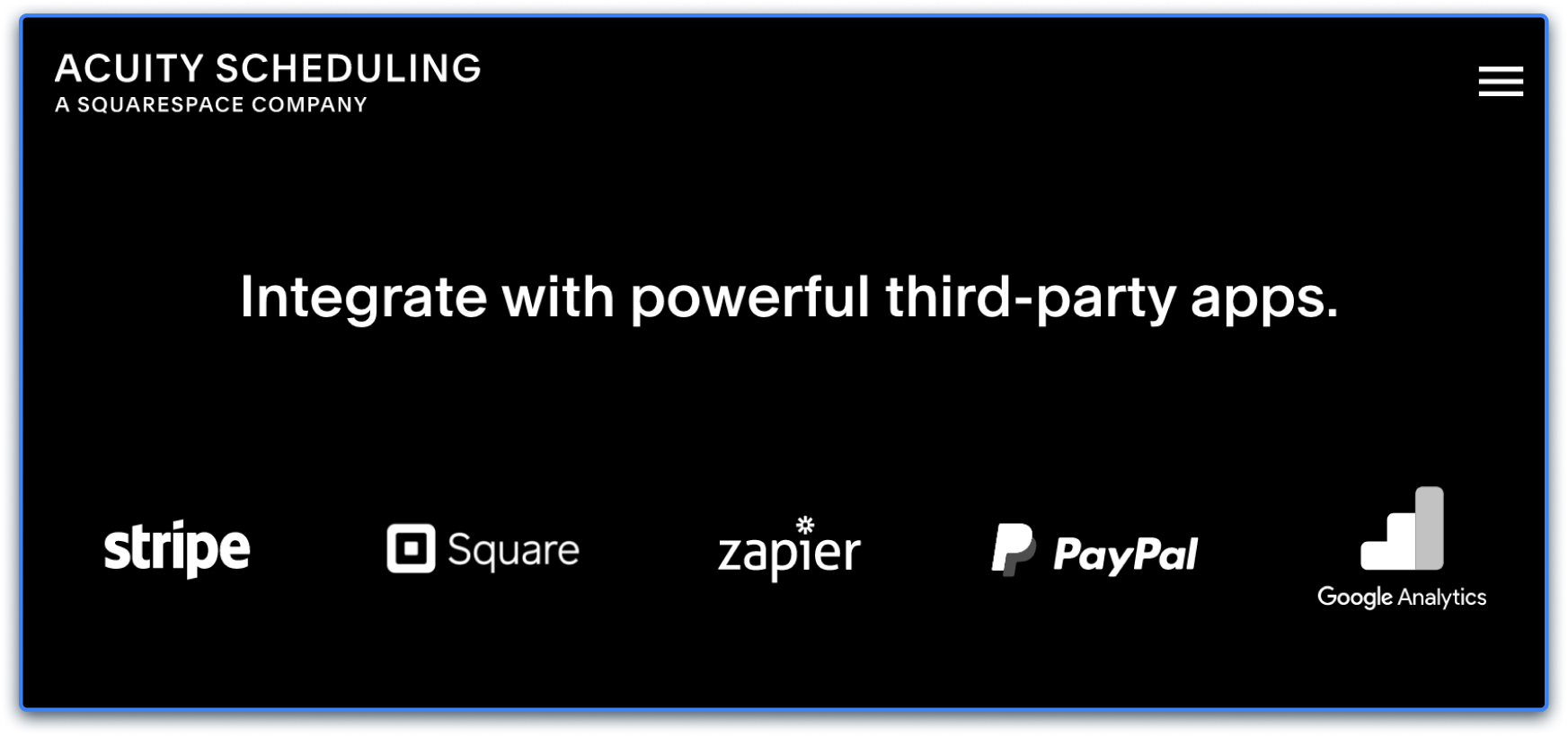 Acuity vs. Calendly: Features
When it comes to features, both of these platforms offer many similar features, but there are some specific things they each excel in over the other. For example, Calendly is much easier for your customers to use when it comes to scheduling. Its interface isn't very busy or crowded, so they won't get lost trying to book an appointment.
With Acuity, you'll have more features, but it requires a bit more technical knowledge than Calendly. If your team is already set up to manage bookings easily, Acuity will likely be the better choice for you because it's more customizable.
Both programs include features like client self-scheduling, confirmations, reminders, text messaging, emails, and they allow you to block out unavailable times.
Calendly allows you to redirect your customers after they schedule a meeting and makes it easy to use with their app. Calendly also integrates with many email platforms like Gmail, Outlook, and iCloud.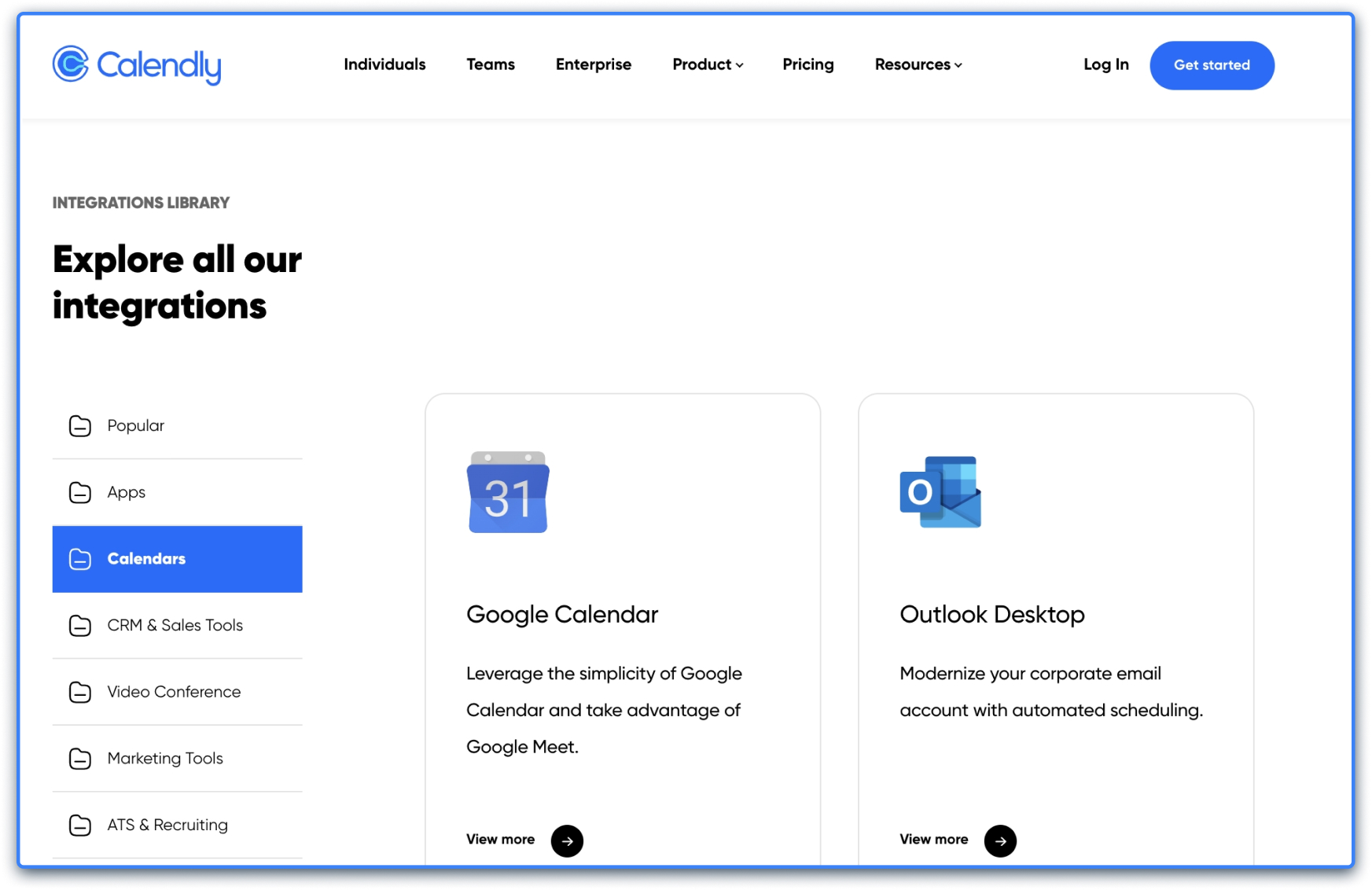 Acuity on the other hand has unique features that give it a different utility than Calendly. For example, Acuity allows you to set up video meetings and sign documents effortlessly. Whereas Calendly will require additional software integrations for that capability.
Depending on your business and needs, one of these software platforms may be more suitable for you than the other. While both are decent options, you may want to consider another SaaS entirely. Namely Taggg which offers many of these same features in an easy-use system that can incorporate the various customer touch points in your business. You can even connect Zapier to make even more connections than most other scheduling software.
Acuity vs. Calendly: Pricing
Pricing for both of these platforms is surprisingly affordable. Acuity charges more for the features you need, so the price varies depending on your choices. You can get a free trial to see if Acuity works for you before you purchase.
Calendly has five different pricing plans, including a free basic plan that many solopreneurs and coaches use when they're getting started. The paid pricing plans for Calendly are based on the number of connections per person and features. Paid plans start at $8 per month and go up to $16 per month. Calendly also offers enterprise-level plans, which are priced on an individual basis and will be based on the size of your organization.
The paid plans for Acuity start at $14 per month and go up to $45 per month, covering up to 36 users for the highest tier. These plans are much higher than those of Calendly, but the ability to collect payments gives Acuity a different level of value.
If you're struggling to decide if Acuity or Calendly are the best option for your company, it's worth noting that Taggg also offers a free basic plan. And, their paid plans are $6 per month for individuals and $ per month for team members to unlock the complete suite of features. If you are a solopreneur or small business, this is a great way to get all the best features while not overpaying.
Acuity vs. Calendly: Ease of Use
For quick reference, here's how Acuity and Calendly stack up against each other:
| | | |
| --- | --- | --- |
| | | |
| | Acuity | Calendly |
| Pricing | Starts at $14/month | Starts at $0 |
| Unlimited Meetings | Yes | Yes |
| Connect a Single Calendar | Yes | Yes |
| Unlimited Connections ℹ️ | Not Available | Not Available |
| BookNow Scheduling ℹ️ | Not Available | Not Available |
| Saved & One-Time Bookable Links | Yes | Yes, for all paid plans |
| Group Scheduling | Yes | Yes, polling on the Professional, Teams and Enterprise Plans. Not available on the Basic or Essentials Plans. |
| Automated Group Scheduling | Not Available | Not Available |
| Zoom, Google Meet, Ring4 Meeting Integrations | Zoom and Google Meet, yes. Doesn't appear to have a Ring4 integration | Zoom and Google Meet, yes. Doesn't appear to have a Ring4 integration |
| Zapier Integration | Yes | Yes, on the Professional, Teams and Enterprise Plans. Not available on the Basic or Essentials Plans |
For small business owners, the goal is to have software that is easy to use. This allows you to streamline your business by focusing more of your time on customer service and sales goals rather than having to spend time learning new software tools.
Both Acuity and Calendly offer easy-to-use interfaces, but there are some key differences.
Acuity is designed to help you manage your time and grow your business financially with new customers. Acuity can be a bit more challenging to integrate into your business if you want to use all of the features they offer.
Calendly, on the other hand, is specifically designed to help you manage your time and eliminate some of the busywork that comes with scheduling meetings. This software does not have as many features as Acuity, but it is easier to use for this reason.
If this is your first time using scheduling software, then Calendly might be a better option for you.
Still, if you're looking for an alternative to both Calendly and Acuity, look no further than Taggg. Taggg is very easy to use and will integrate with many popular integrations like Google Meet, Ring4 Meetings, and Zoom. Learn more by giving Taggg a try for free. Click here to get started!
---
About the author
Trevor Hatfield is the founder of Inturact and strives to create highly tuned marketing machines for their clients websites, products, and apps. While also constantly keeping up with technology and building a team of multifaceted and dedicated professionals.
LinkedIn
|
Twitter
|
Website
Read more posts by this author.