Comparison
ScheduleOnce vs Calendly: How Do They Compare?
Find out how ScheduleOnce vs Calendly compare agains each other in terms of pricing and features.
---
The shift from working in an office to remote workplaces has created a need for tools that make it easier for teams and customers to have a way to connect. This is where online appointment booking tools come in. While many other platforms are available, for today's purposes, we will focus on ScheduleOnce and Calendly, as they are two of the most popular options.
How do they compare against one another? Both ScheduleOnce and Calendly focus on appointment booking, but they take two different paths to get there. Below, we'll take a look at how each of these tools works, who they are for, and what makes them different.
ScheduleOnce Overview
ScheduleOnce is a prevalent scheduling platform that has been around for over a decade. It offers a very user-friendly interface and a wide range of features. It's designed for solo entrepreneurs and small businesses, it's straightforward and has many options, but it can be complicated if you want to integrate with other tools.
ScheduleOnce Features
ScheduleOnce offers a lot of elements that can be useful for your business. Here are some of the most popular features:
Calendar Integrations
ScheduleOnce's platform allows customers to link their Google, Office 365, or Outlook calendars. After connecting one or all of these calendars, all of the events you have in them will automatically appear in your ScheduleOnce calendar.
Unlimited Meetings
With the Unlimited Meetings feature, you can have many appointments without extra fees. This is an excellent option for businesses that have a lot of meetings and need to book more than one session at a time.
Pooled Team Availability
This allows your employees availability to be shared among the clients. This feature is great for businesses that have many different people rotating through shifts or have multiple people that a customer can choose from.
White Label Branding
With White Label Branding, you can put your company's branding (i.e. your logos and colors) on ScheduleOnce. This is a great way to ensure that customers always know who they are booking with.
Video Conferencing Integrations
With Video Conferencing, you can connect to video conferencing platforms like Zoom, Skype for Business, and GoToMeeting. This is a great way to have meetings with customers without leaving your office.
Security and Compliance
ScheduleOnce has a HIPAA-compliant platform that makes it easy to integrate into doctor's offices and more. They also use single sign-on (SSO) and two-factor authentication (2FA) to keep yours and customers' data safe.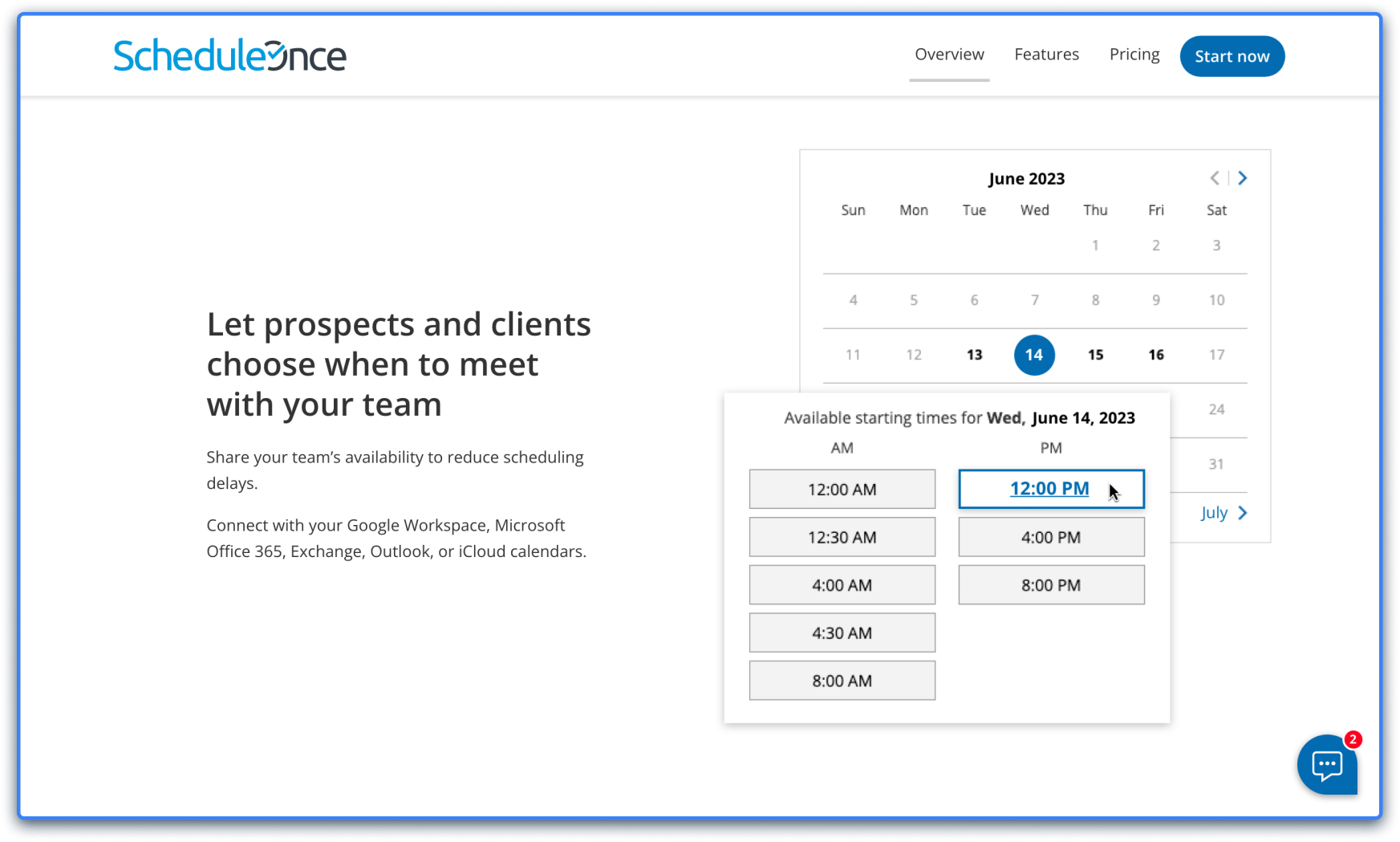 ScheduleOnce Pricing
ScheduleOnce offers several different packages, depending on your needs. Their Starter plan is free for up to 25 users, and is perfect for those looking to get started with an online scheduler. They also offer a Growth plan for $10 per user per month that gives you more integrations, APIs, and webhooks. For larger companies with greater needs such as security features that can help them keep their data safe, ScheduleOnce also has custom priced Enterprise plans available.
Who Is ScheduleOnce For?
ScheduleOnce caters to large teams. According to Capterra, it's best for industries "including B2B SaaS, financial services, consulting & coaching, health & medical, fitness & lifestyle, education & eLearning, and more."
Calendly Overview
Calendly is another popular platform that individuals and businesses use to schedule appointments. Calendly is an easy-to-use platform that is great for those new to online schedulers and do not need a lot of features. Their goal is to make both your life and your customers' lives easier by automating the process of appointment scheduling.
Calendly Features
Calendly offers many similar features to the ScheduleOnce Starter and Growth plans. Some of their most popular features include:
Meeting Polls
Meeting Polls are the best way to get customer feedback and preferences on meeting with you. You can easily add a poll into your email or notification and get results directly in Calendly, so you don't have to keep checking back.
Time Zone Support
Whether you're in LA, NY, or London, time zones can be a pain -- especially for scheduling meetings. With Calendly, you can easily set your availability, and Calendly automatically adjusts based on your client's time zone so they always know when they can meet with you.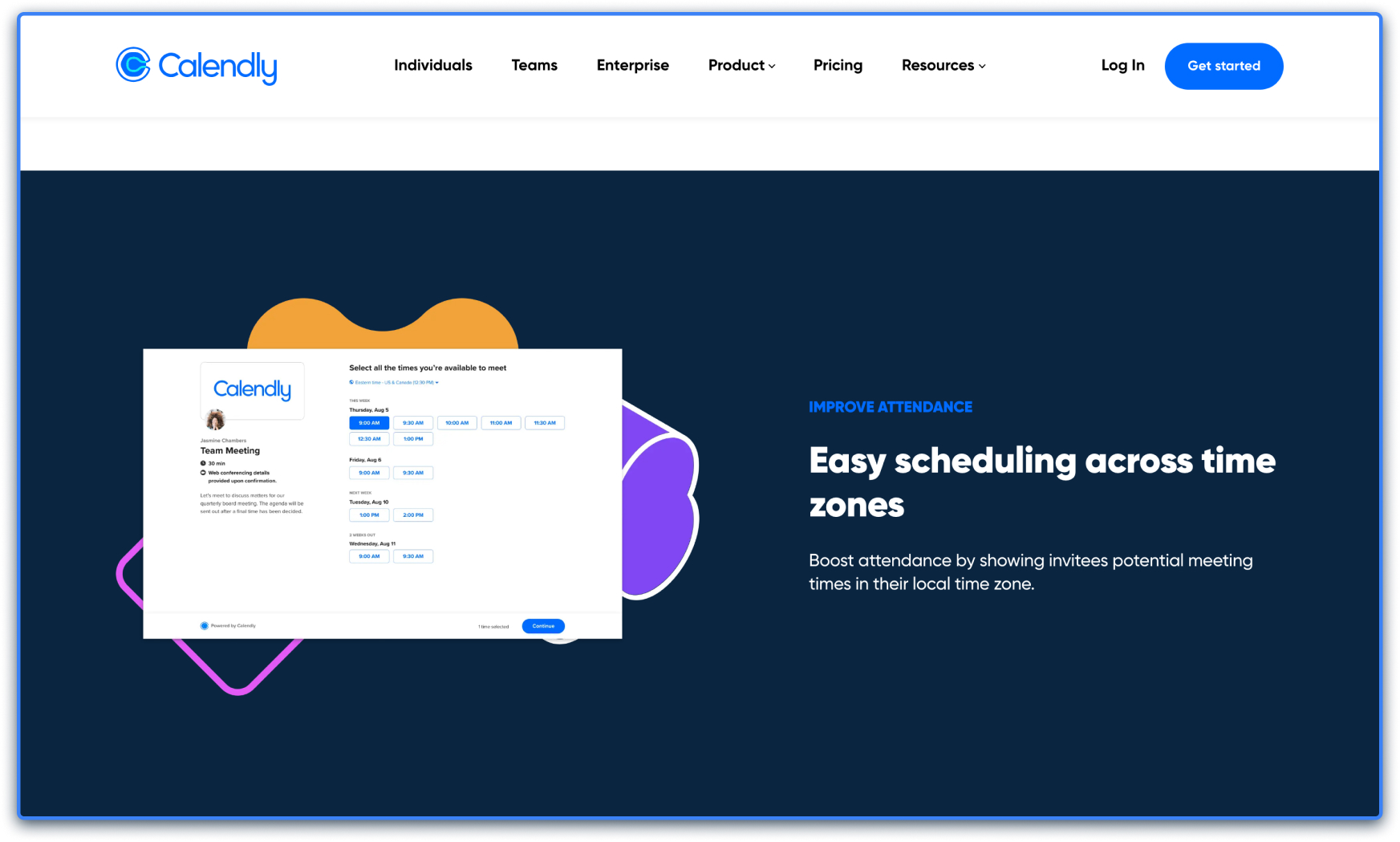 Automatic Appointment Reminders
People are busy, but if you have Calendly set up, your customers will be automatically reminded of their appointment, so they don't forget. You can send them a reminder via email, text message, or both!
Custom Booking Links
With Calendly, you can create a custom link and share it with anyone. This is the easiest way to get your online scheduler up and running without having to worry about setting up an appointment page or installing an app on their phone that may not be compatible with what they use every day.
Calendly Pricing
Calendly has a tiered pricing system and offers four different plans: Essentials, Professional, Teams, and Enterprise. For most businesses that just want to provide an online scheduler that is easy to use and doesn't cost too much, the Essentials plan will be sufficient.
The Essentials plan starts at $8 per month, but doesn't offer many more features than the free basic version that Calendly offers. Their Professional plan costs $12 per month and unlocks more features such as removing Calendly branding and customizable email notifications.
Their Team plan comes in at $16 per month, and is designed for companies that require synchronized calendars with internal and external teams. The enterprise-level plan is similar to ScheduleOnce, where pricing is custom designed based on the needs of your business.
Who Is Calendly For?
Calendly is best suited for those new to online schedulers, and users who do not need a lot of extra features. Capterra says Calendly is best "for sales teams, recruiters, customer success, education, entrepreneurs, and anyone who schedules meetings."
If you need an easy-to-use platform that does not require training or continuous support, you'll likely enjoy Calendly because of how simple and fast it is to set up. However, Calendly has many limitations when it comes to integrations and features compared to other online schedulers like ScheduleOnce. That is unless you're paying for their $16 per month plan. Only at that price point will your account be able to unlock all of their features.
ScheduleOnce vs. Calendly: Which One Should You Use?
For quick reference, here's how ScheduleOnce and Calendly stack up against each other:
| | | |
| --- | --- | --- |
| | | |
| | ScheduleOnce | Calendly |
| Pricing | Starts at $0 | Starts at $0 |
| Unlimited Meetings | Yes | Yes |
| Connect a single calendar | Yes | Yes |
| Unlimited Connected Contacts | Not Available | Not Available |
| BookNow Meetings | Not Available | Not Available |
| Saved & One-Time Bookable Links | Yes | Yes, for all paid plans |
| Group Meetings | Yes | Yes, polling on the Professional, Teams and Enterprise Plans. Not available on the Basic or Essentials Plans. |
| Automated Group Meetings | No | No |
| Zoom, Google Meet, Ring4 Meeting Integrations | Zoom and Google Meet, yes. Doesn't appear to have a Ring4 integration | Zoom and Google Meet, yes. Doesn't appear to have a Ring4 integration |
| Zapier Integration | Yes | Yes, on the Professional, Teams and Enterprise Plans. Not available on the Basic or Essentials Plans |
After comparing these two platforms side by side, it's clear that both online schedulers are great options. However, they both have many limitations that create gaps in who can use the platform, and how long it will be useful before you need to pay extra as your business grows.
If you don't need tons of features or integrations, then Calendly will be sufficient to use for your business. Because their pricing is tiered, it's also easy to increase your plan as your needs grow.
If you're looking for a more enterprise-level online scheduler that offers more features, integrations, and scalability, then ScheduleOnce is a better option. They lack many of the features and capabilities growing small businesses need, making it a less viable option for small businesses with three or more employees.
Perhaps there is a third option you've not yet considered.
Introducing Taggg - The Best Alternative to Calendly and ScheduleOnce
Taggg is the online scheduler for businesses that is a perfect hybrid between Calendly and ScheduleOnce. Not only does Taggg offer a free plan that fits most business's needs, when your business is ready to grow, the pricing plans are affordable considering all you get for your fee.
Taggg's Pro plan starts at just $6 per month and features unlimited meetings, unlimited connected contacts, BookNow Meetings, Saved and One-Time Bookable Links, group meetings, and more. And, unlike Calendly and ScheduleOnce, it also has an integration with Ring4's video meeting software that allows video conferencing without software installs or sign ups.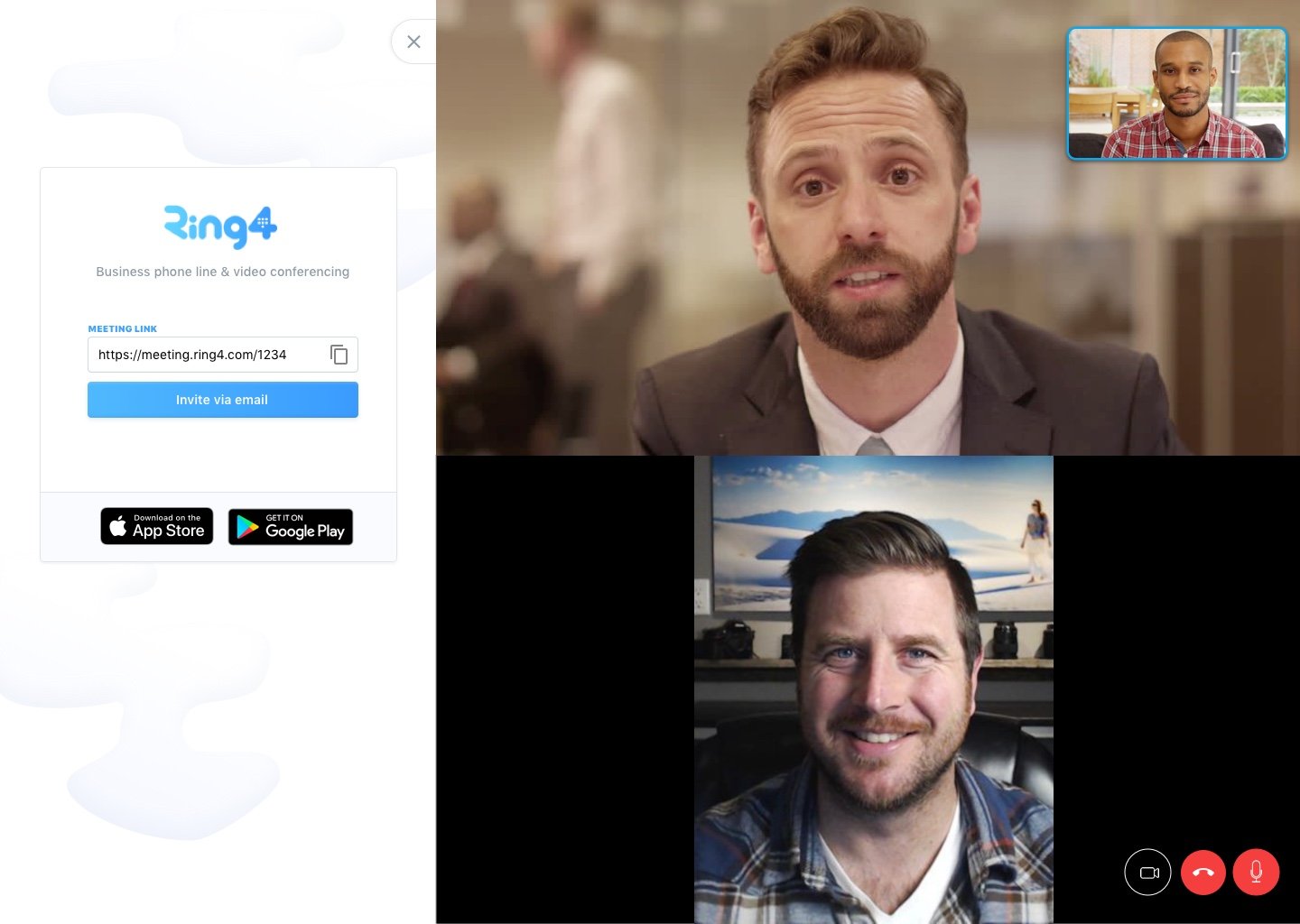 If that wasn't enough, you can unlock all of Taggg's features starting at just $8 per month, and if you choose annual billing with the Team plan or the Pro plan, you get two months free. Taggg is a straightforward platform to use and has an accommodating user interface. While Calendly and ScheduleOnce are decent online schedulers, where they fall short, Taggg picks up the slack - and for less than you'll pay for either one of them!
With Taggg, you can do a lot more than just set up a simple online scheduler. Thanks to our integrations and features, we're confident you'll find we can meet any business's needs - small or large. Bottom line - If you're looking for an online scheduler with more features, integrations, and feature customization, then the Taggg platform is a great alternative. The free plan has all of the main features to set up your very own scheduling software, while our paid subscription plans offer even more professional-level features.
Taggg prides itself on its customer support, the ability to manage multiple calendars, time-zone synchronization, and still be affordable. It is an excellent platform for users that are new to online schedulers, but robust enough to grow with your business. Learn more, and get started for free today!
---
About the author
Christina has worked as a content strategist and meeting coordinator in the SaaS space for many years. She has worked with large fortune 500 companies down to small startups and is an expert at keeping teams focused on driving organic growth.
LinkedIn
|
Read more posts by this author.