Remote Work
Work From Home Video Conferencing Setup: A Quick Guide
Check out Andre's 8 tips and tricks to avoid video conferencing problems and make you more confident.
---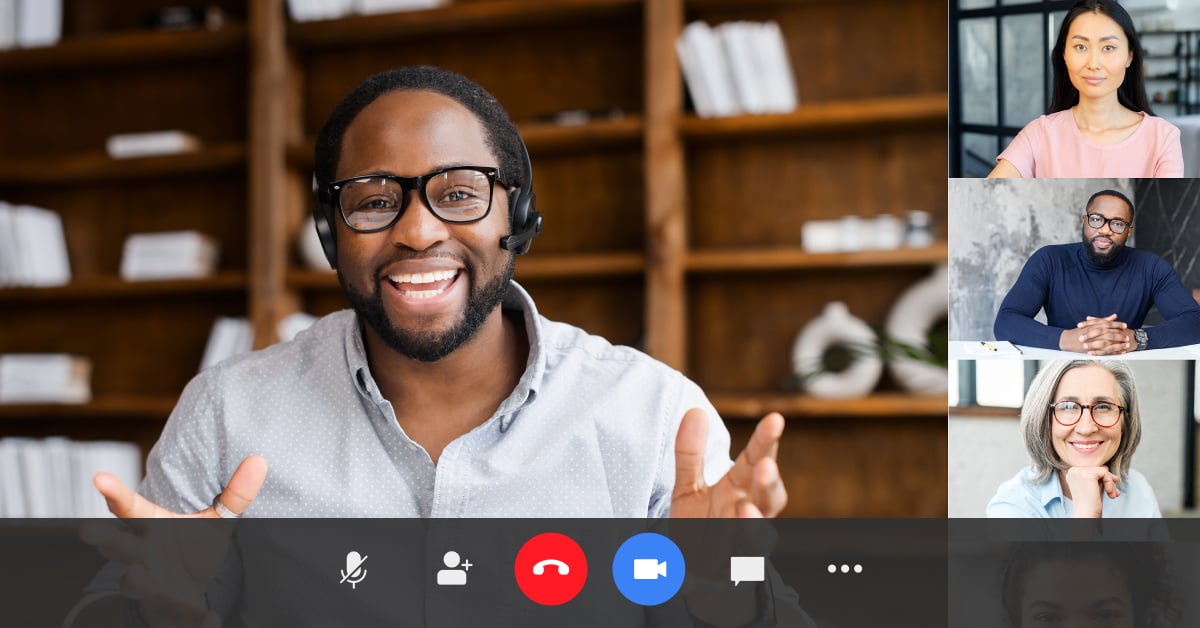 Video conferencing has become a normal occurrence during working from home (WFH). People use it to communicate with clients and colleagues.
Though a video conference sounds easy nowadays, in fact, many people are still struggling to have a proper video conference that looks professional and effective to make their business run smoothly during remote working.
Problems keep coming up during the call. You may encounter a situation where your clients cannot hear you clearly, or your face looks ill due to poor lighting.
Here are a few tips and tricks to avoid all those problems and make you more confident during the conference.
#1. Prepare your lighting
To hold a professional home video conference, preparing the best lighting is the first and foremost thing. The wrong placement of lighting can make you squint the whole meeting.
Proper lighting will render a high-quality image that will indicate your professionalism and boost your confidence during the meeting.
Need some suggestions to give you a professional executive look at the following video conference? Check out this quick tutorial on how to set up the best lighting:
Sit facing a window.
It is the simplest way to get the best lighting. This method, however, is applicable only for a brief meeting. If you have a long video conference, go for another option because the bright light can strain your eyes.
Invest in a ring light.
If your home office is not close to a window, you can opt for a ring or panel light. The best position for using a ring light is to place it directly in front of you. Make sure that the light is in line with your face to avoid looking like a film noir villain.
Use a soft light bulb
If you are not yet satisfied with the light that comes from the light panel, you can try to turn on a soft light bulb on your side.
#2. Check your audio
In a video conference, of course, you want to be seen and heard. Therefore, preparing your audio before starting the meeting is also vital.
If you are in a quiet room, relying on a built-in microphone from your laptop is enough. If you want to improve your audio, check the following tips:
Use an external microphone
You have several options, such as a universal serial bus (USB) headset, wireless headset, or even desktop USB mic.
Place your microphone close to your mouth
To ensure that your sound is clear, place it 5 to 6 inches from your mouth. Test it out with someone before starting the conference.
Get decent headphones
Feedback loops are one of the most typical issues during a video conference. It is actually avoidable if you use decent headphones.
#3. Choose the best video conferencing provider
Are you planning to be the conference's host? It is necessary to find the finest conferencing provider or platform.
Conduct thorough research to learn more about a platform, whether it allows you to utilize virtual whiteboarding, play a video while the speaker is discussing, share a screen, and many other features.
It will be ideal if the video conferencing service provider is accessible and user-friendly. As a result, all participants may effortlessly use it without encountering any substantial barriers.
Here are some popular video conferencing providers or platforms for hosting your online meetings:
Zoom
Google Meet
GoToMeeting
RingCentral Video
Microsoft Team
#4. Pay attention to your background and surroundings
Choosing the proper background for a video conference is somehow tricky. You cannot be too personal, but a plain background like you're in a white abyss is also unappealing.
It is preferable to avoid an empty white wall as your background. You can try something that looks more professional by using a bookcase with some houseplants.
Yet, you have to ensure that you are not showing some personal stuff, like a family photo, bed sheet, or even dirty clothes. All those things can distract other attendees of the conference.
During the conference, eliminate some interference, such as pets, children, or other family members moving behind you.
Setting up a great background for video conferencing can seem like a back-breaking job. We don't all have the luxury of a home office, some of us use a small corner of our kitchen, our bedroom, or even the living room, right? Thankfully, many video conference providers provide you with a virtual background feature that allows you to display a static image or video as your background.
#5. Set your camera position
Though some laptops have excellent built-in cameras, you can go the extra mile by using an external webcam with better quality to complement the excellent lighting and background.
Set up your camera in the best position. Place it at eye level so that you can stare straight ahead at individuals on the call and feel as if you were in a face-to-face meeting.
Moreover, people tend to look at the computer screen rather than at the camera during a video conference. Positioning a camera at eye level will create an illusion as if you are staring at other people's eyes.
Aside from the camera, your position should be proper as well. Avoid putting your face too close or too far from the camera.
#6. Get a convenient desk and chair
A comfortable chair and workspace are also essential for running an exemplary video conference. Do not let people wonder because you are fidgeting around.
It will be better if you invest in an office chair to support your work during WFH. Whenever you have a video conference, you can use it, especially when you join a long call.
More importantly, using an office chair for meetings can give the best impression and look more professional. If you use a wheeled chair, avoid spinning it too much during the call since it can be distracting for other participants
To make yourself more comfortable, arrange your desk and make it clutter-free. Just have the essentials; for example, pen and paper.
#7. Wear comfortable clothing
A top-notch video conference involves a lot of details, including your attire. Most clothing is fine, but there are some exceptions to make your image better on screen.
First of all, skip wearing a strapless top or deep V-neck. It will risk exposure because your camera is above you.
Wearing clothing with intricate patterns and sheen is not recommended, too, because it will be reflective and distract other attendees.
In terms of color, a neutral outfit is better than deep black or bright white because many webcams have automatic exposure. When it captures a bright white shirt, the focus will stop down and make your image look less apparent.
On the other hand, a black shirt will cause your surroundings to appear overly bright.
Here's an example of comfortable yet proper clothing for WFH video conferencing from Outfit Trends:
#8. Secure your internet connectivity
Check your internet connectivity once you've completed all of your preparations. To avoid a jittery conference, choose a secure high-speed connection.
If your signal is poor, all of your efforts to set up the audio and video will be wasted. Though you have excellent audio and a high-quality camera, a slow connection can destroy everything.
As a result, you must get a dependable internet provider who will not frustrate you during every meeting. If it is possible, use a hardline internet connection. You should also have an encrypted setup to protect your privacy.
The Bottom Line
You do not need to build a studio in your house to take your WFH video conference to the next level. A simple setup paired with adequate planning will yield the most remarkable results.
You only need to invest in a few pieces of equipment, such as a camera, headphones, and lights, to run a smooth conference.
Additionally, having a secure internet connection and a video conferencing service will improve the quality of your session. You are now ready to create a professional-looking home video conferencing.
---
About the author: Andre Oentoro is the founder of Breadnbeyond, an award winning explainer video company. He helps businesses increase conversion rates, close more sales, and get positive ROI from explainer videos (in that order).
Twitter: @breadnbeyond
Email: andre@breadnbeyond.com
LinkedIn: Andre Oentoro